The first of our activities was our ward Christmas party. It was a Luau complete with Hula dancers, kahlua pork amd rice, and a nativity show with an angelic choir (Maisey was an angel), and a visit from St. Nick himself!
Gage was sitting on my lap and making cat calls at Dana (one of the dancers and our friend). Too bad he was too quiet for her to hear!
Maisey did a great job singing all of the songs and being very reverent. Sometimes she can be very angelic, and other times, well. . . yeah, we'll just leave it at that.
The kids were waiting in line for Santa. Maisey is posing it up, and Gage is totally nervous. He ended up just waving at Santa from his mommy's arms.
But this girl has been sooooo brave this year. She is all about sitting on Santa's lap.
The party was a big hit and we all came home and went right to bed afterward!
Our next activity was our yearly gingerbread house tradition with our friends, but we really missed one of the families this year. When I was buying the kit at the store, I saw one for a train and I KNEW Gage would love it. But the framework wasn't preassembled and there was no way of talking Shaun into an unassembled gingerbread kit again after
our failed attempt
two years ago. So we stuck with the classic house. It turned out pretty cute.
On Monday for FHE we headed down to Keizer to walk through the Christmas Light Display. It did not disappoint. My kids love looking at all of the lights, and by walking this year we were able to stop whenever we wanted to admire the work. We will definitely be driving through the route again later this month.
Maisey's favorite part was spotting all of the characters, including Santa, Frosty, Mickey and Minnie, and The Grinch!
Gage's favorite part was yelling out "Mama TRAIN!!!!!" every time he saw one.
And our favorite part was just being together as a family, oh and the hot chocolate.
Last night was Shaun's work Christmas party. I made my friend's famous
chocolate cake
for a silent auction event. It went for $30! We played lots of Black Jack and Shaun played a little Roulette. I was awesome at Black Jack and if you won a certain amount then you got raffle tickets to put in the drawing. One of my tickets won us this laptop cooling pad. . . not as cool as the donut maker but that's ok.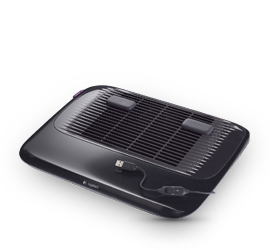 It's been a fun filled week, with more to look forward to this weekend.